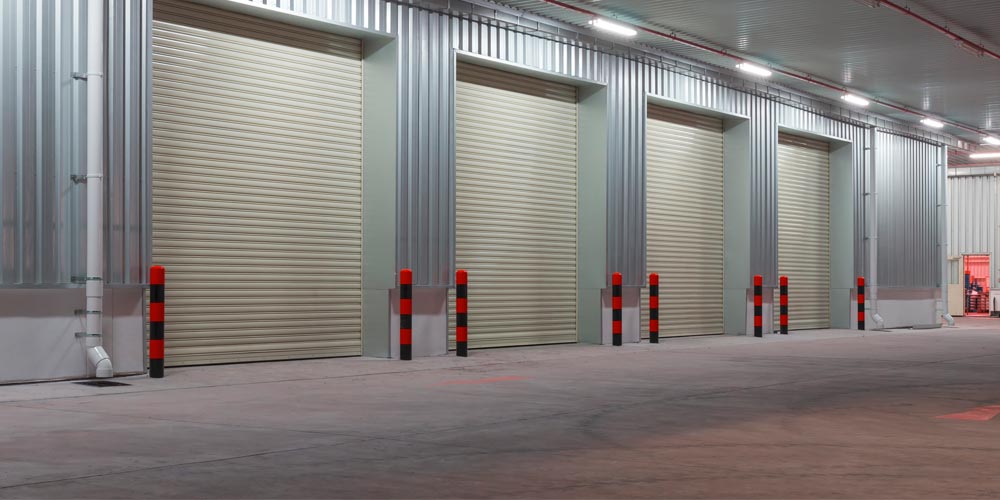 Coiling Garage Doors serving Portland, Maine and the Surrounding Areas
At Door Services Inc., we offer a variety of coiling garage doors to fit any specified opening you need covered. We have the materials and colors you are looking to match aesthetically for your property.
Benefits of Coiling (Roll-Up) Garage Doors
Rolling doors are made from slats of galvanized steel, aluminum or stainless steel that roll up and coil. They provide security against entry as well as protection from weather for industrial, commercial, and residential buildings. Here are three great benefits of coiling garage doors:
Security – Roll-up doors are strong and are the better option security-wise when compared to fiberglass, aluminum, or wood garage doors. They provide superior protection from trespassers, the elements, and more.
Durability – When it comes to long-lasting durability and dependability, coiling doors are a great option. Steel is a resilient material which can endure wear and tear, heavy usage, and can be outfitted with rust-resistant components to further extend their longevity.
Function – Coiling garage doors have large structural openings that make them ideal for shipping or allowing cars through. They offer plenty of room and come with wide or tall openings for your convenience.
Contact Us Today
Knowing which coiling door is right for you can be difficult, so contact us today to help you select the right one. We serve everywhere around the Maine area, including Bath, Brunswick, Boothbay, Kennebunk, Wells, Cumberland, Windham, Biddeford, Saco, Lewiston, Auburn, Scarborough, Falmouth, Portland, Cape Elizabeth, Wiscasset, Harpswell, and Augusta. To learn more about our garage door products, visit us or give us a call today!
Our Garage Door Manufacturers