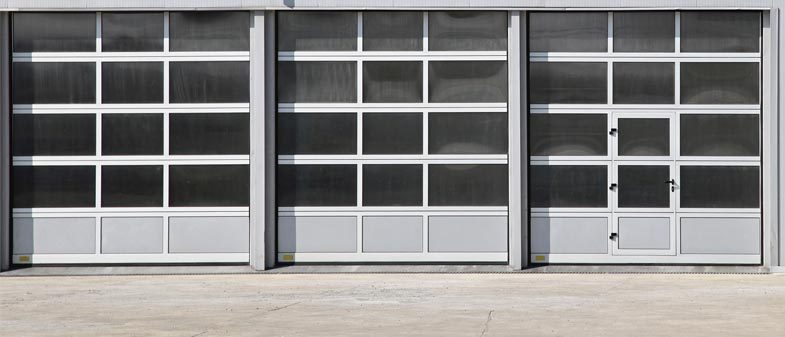 Commercial Garage Doors
for Portland, ME; Portsmouth, NH; and the Surrounding Areas
Are you a business in the Maine and New Hampshire area looking for the finest in commercial garage door products? At Door Services Inc., we work with and provide only the finest manufactures of garage door products as well as services to all our clients. From rolling commercial steel doors and overhead sectional doors to innovative automated doors, our professionals have exactly what you need for your business.
Click on the links below to learn more about our manufactures or give us a call today to learn more about our garage door services!
Our Manufacturers
How Can Your Business Benefit from Automated Doors?
Depending on the type of business you operate, you may not see a need for a commercial garage door. The truth is, commercial and industrial garage doors are becoming increasingly popular for a variety of reasons. Its uses and benefits depend on your individual needs. How can a commercial-grade garage door help your business?
Size: Your commercial garage door can be as large or small as you need it to be. We can create a door that's large enough to allow for easier loading/unloading, accommodate multiple vehicles, or house larger vehicles.
Durability: Weather in this region can create plenty of wear and tear on your building. Garage doors are most commonly made of steel and are designed to withstand weather issues as well as the general wear and tear that you create by going about your business. If you invest in a commercial garage door, you can expect that investment to last.
Security: It's much more difficult to penetrate a thick, reinforced steel garage door than it is other materials. A commercial garage door adds an extra level of security to your property.
Cost-Effective: Many garage doors come with insulation, which saves you money on utility bills and helps protect your merchandise.
Customization: Your commercial garage door can be anything you want it to be, whether you're looking for something classic or something that adds to the aesthetic of your building. Either way, we can accommodate your preferences.
We Provide Garage Door Services for:
Portsmouth, NH; Portland, ME; Alfred, ME; Auburn, ME; Augusta, ME; Bath, ME; Biddeford, ME; Boothbay, ME; Bridgton, ME; Brunswick, ME; Cape Elizabeth, ME; Casco, ME; Cumberland, ME; Falmouth, ME; Farmington, ME; Freeport, ME; Gardiner, ME; Gorham, ME; Gray, ME; Harpswell, ME; Kennebunk, ME; Kittery, ME; Lewiston, ME; Limerick, ME; New Gloucester, ME; Norway, ME; Ogunquit, ME; Old Orchard Beach, ME; Oxford, ME; Raymond, ME; Rockland, ME; Saco, ME; Sanford, ME; Scarborough, ME; Sebago, ME; Standish, ME; Topsham, ME; Turner, ME; Waterville, ME; Wells, ME; Westbrook, ME; Windham, ME; Wiscasset, ME; Yarmouth, ME; and York, ME.