Garage Door Services
for Portland, ME; Portsmouth, NH; and the Surrounding Areas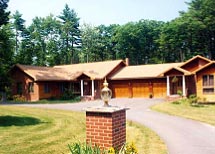 Residential Garage Doors
Many of our new and existing customers associate Door Services with the commercial and industrial market. The truth is, we furnish and install more residential doors and operators than any other type of door. Over 60% of all our man hours worked are spent servicing the residential market. From exotic wood raised panel doors to the more competitively priced garage doors, Door Services has a door that will complement your home and last for many years to come. When service is needed, no one responds more quickly than Door Services. We are one hundred percent committed to our residential customers and the communities that we service with our experienced garage door services. Contact DSI
---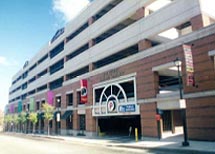 Municipal Facilities
The cities and towns of Northern New England have many special needs for sectional and coiling doors. There are fire stations, police facilities, and public works departments, to name a few. Door Services is proud to have supplied all of the rolling doors for the city of Portland at Hadlock Stadium, Home of the Portland Sea Dogs. Now that recycling has been mandated, many towns are required to update their transfer stations to handle the growing volume of materials being recycled. Because of the unusual size of the trucks that haul the materials, there is a need for some unusually large doors. We have provided doors for facilities in Salem and Bedford, New Hampshire. Door Services has provided the unusual doors needed by these facilities such as the 25′ x 18′ door installed at the Portland Public Works Department. We also provide the service required to maintain these doors. Contact DSI
---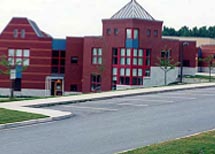 Institutional Facilities
Schools, hospitals, and nursing homes have special cleanliness and safety needs. Rolling fire doors are very common in these institutions where fire protection is often very strictly regulated by state and federal laws. Freeport's Mast Landing has many rolling fire doors. Their special applications include a second floor open atrium area that is surrounded by concealed fire doors. These doors are integrated into the building's fire alarm system and will drop in the event of an alarm to prevent the spread of fire to other parts of the building. Stringent laws and regulations require that these doors be tested on a frequent basis. Numerous fire product systems aid in these more frequent tests, and increase the safety of the building occupants at the same time. Door Services is fully knowledgeable in these systems and their installation. We have aided engineers and architects in the design for special applications, such as the Portland Jetport where an unusually wide span was required (45 feet) and heavy pedestrian traffic needed to be considered We take pride in our ability to meet these needs. Contact DSI
---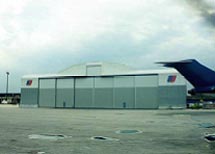 Aviation Facilities
When it comes to large doors no one has a greater need than the aviation industry. Doors large enough to accommodate jet airliners must operate dependably and safely in all weather conditions. These door projects require hundreds of man hours and heavy equipment to complete; the electrical components and the wiring of the safety equipment alone can be extensive. Whether you need vertical lift, multi-leaf, bi-fold, or sliding doors, we can provide them, along with services from the initial concrete work to the final wiring connection. Installations include Presque Isle Airport, Bangor International Airport, Portland Jetport, and Boston's Logan International Airport. Contact DSI
---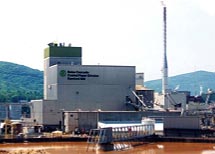 Industrial Facilities
Industrial work represents a large portion of Door Services' projects. In addition to serving the paper and lumber industry, Door Services has provided products and services both nationally and internationally. Projects include Los Alamos testing laboratory in New Mexico, with others as far away as the Philippine Islands, Andros Island, Bahamas, and Charleston, North Carolina. Some of our more notable customers are Fraser Paper, Rumford Mill / Boise Cascade, International Paper, IBM, Auburn incinerator, Bath Iron Works, Deer Island Waste Water Treatment, Chemical Waste Management Co., Martin Marietta, BF!. In general, products provided to these users include rolling fire doors, high speed doors, high cycle doors, and dock equipment. Contact DSI
---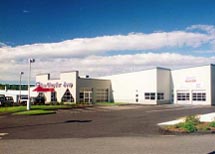 Commercial Facilities
The commercial market place is where we supply some of our largest quantities of doors. Transportation, Automobile, Freight handling, these industries all need sectional and coiling doors and loading dock equipment, through which to move materials or house their vehicles. Completed projects include United Parcel Services, (where we have supplied new doors in facilities at Boston's Logan Airport, Manchester New Hampshire, Wells Maine, to name a few), Overnite Transportation, Landair Express, Airborne Express and Portland Air Freight. Auto mobile dealers are no strangers to Door Services either. We supplied doors to Saturn and Infiniti, GMC and Buick, and at Charlie's Auto Mall in Augusta with 18 of our super-insulated doors. Time is money. Our commercial customers need reliability from a company that can respond and cut their costly down-time to a minimum. Door Services is this company. Contact DSI
---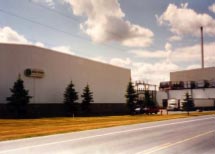 Agricultural Facilities
Door requirements for the agricultural market in Maine and New England is a specialized area for Door Services. Consideration must be given for the general use and severe environmental conditions present. Prior product approval by the U.S. Department of Agriculture is very often required and is a must in many applications. Chemicals, high humidity and subzero temperatures, as commonly found in cold storage facilities, potato storage and frozen food storage, can take a quick toll on improperly designed doors. Door Services has the doors for these conditions and has spent thousands of dollars for independent testing of products for the suitability to some of the conditions present.
Our customers include McCain Foods, Interstate Foods, Sure Winner Foods, Supervalu, Hannaford Brothers, Shop and Save, Seaboard Products….the list goes on. We are proud to serve the Portland, ME area, including Brunswick, ME; Scarborough, ME; Wiscasset, ME; Cape Elizabeth, ME; Falmouth, ME; and Biddeford, ME. Contact DSI
---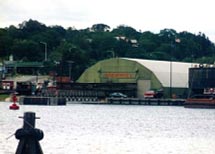 Marine Facilities
The coast of New England has long been recognized by the tourist industry for its culture and beauty. Along with this, there thrives a numerous marine industry of fishing, shipbuilding, boating and shipping. This industry requires extremely large doors that must be resistant and able to with stand the freeze / thaw cycles, high wind loading and corrosive atmosphere present along the New England coast.
Door Services has been active in these industries for many years and is proud to have provided services and products to Merrill industries, Bath Iron Works, Portland Fish Exchange, Boothbay Region Boat Yard, U.S. Coast Guard, Portsmouth Navel Shipyard, Rockland Ferry Terminal, Bristol Sea Foods, Mass Port and many others. Contact DSI
---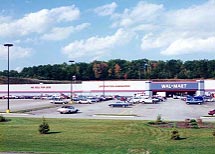 Retail Facilities
Over the last ten years the New England area has experienced major growth in its retail industry, with the expansion of giant retailers like Walmart, Sam's Club, Home Depot, and BJ's. For Walmart alone, Door Services has supplied products for over 17 of their New England locations. Although their door needs are numerous, with specialty colors and odd applications being the norm, their fast track requirements and scheduling demands require prompt service and quick delivery. Door Services meets all their needs with it comes to garage door services.
Who hasn't been to a mall where these wide open store fronts have to be secured at closing time? The next time you see a rolling security grille, chances are that Door Services supplied and/or installed it. Think of us the next time you go into Walden Books, Gymboree, Belden Jewelers, Body Shop, CountrySeat, Garden Botanika, Payless, Thom McCann, Record Town, Kaybee Toys, and more. Contact DSI
Contact Our Garage Door Contractor to Schedule a Service!
With over 30 years of experience in the garage door industry, the team at DSI Door Services Inc. take pride in offering a variety of services to clients across the areas of Maine and New Hampshire. Our service area extends throughout the communities of Portsmouth, NH; Portland, Alfred, Auburn, Augusta, Bath, Biddeford, Boothbay, Bridgton, Brunswick, Cape Elizabeth, Casco, Cumberland, Falmouth, Farmington, Freeport, Gardiner, Gorham, Gray, Harpswell, Kennebunk, Kittery, Lewiston, Limerick, New Gloucester, Norway, Ogunquit, Old Orchard Beach, Oxford, Raymond, Rockland, Saco, Sanford, Scarborough, Sebago, Standish, Topsham, Turner, Waterville, Wells, Westbrook, Windham, Wiscasset, Yarmouth, and York, ME.
From repairs and maintenance work to complete installations, we have the knowledge and equipment to get the job done right. To learn more about our selection of residential and commercial garage doors or about our automated doors – please feel free to contact us today!